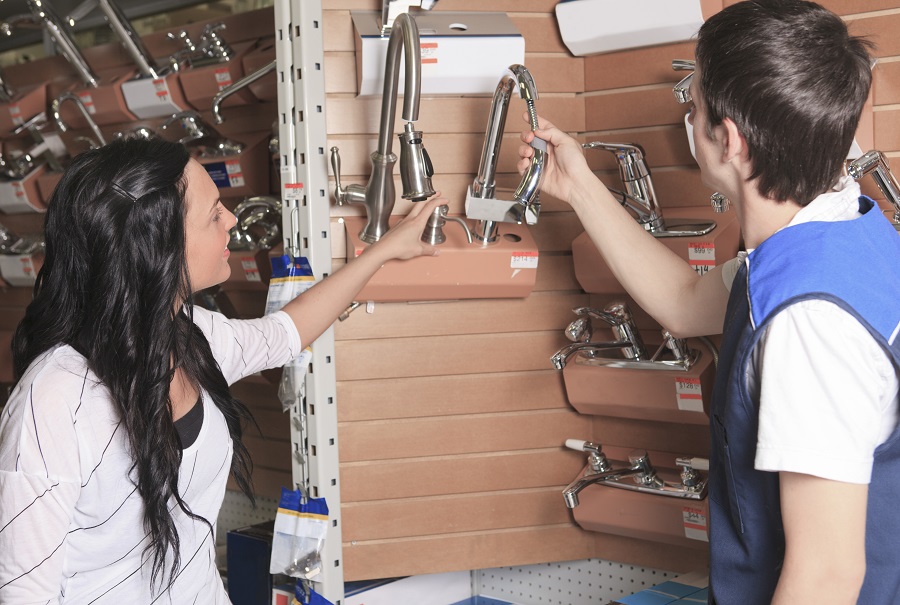 One of the biggest misnomers about self-service technology is that introducing kiosks and other automated solutions allows businesses to reduce staff. However, an ordering kiosk at Taco Bell or a self-service checkout at the grocery store shouldn't replace employees.  Although the ordering/checkout process is faster, you still need staff to assist customers, prep orders, stock shelves, bus tables and other tasks.
Employees are expensive, so it was common practice for merchants to choose between faster checkouts with more staff behind the counter or fewer lanes but more associates working on the sales floor. That choice is no longer necessary, because self-service technology makes it possible to do both without sacrificing growth or profits.
Here are four ways you can retain staff and implement self-service technology, while increasing sales.
1. On floor/in-aisle inventory assistance with tablet POS solutions.
Instead of standing behind the cash wrap, associates can be reassigned to the sales floor, where they can use tablets to quickly assist customers looking for an item. There's no need to rummage around shelves or racks or search the stockroom while the customer waits. A few clicks can tell the associate if the item is in stock and where, or if it's not, which store locations have it. Depending on the solution, the associate can arrange to have the item shipped right from where they're standing.
2. Staff available to help troubleshoot tech issues.
Nothing works perfectly all the time, and your customers are going to need help when they run into problems with self-service technology. A customer scanning their groceries at a self-checkout line may need assistance with voiding an item, getting a receipt if the paper runs out, or if they didn't get the proper change. The machines can't fix themselves and customers won't get it right every time, so you'll need staff on-hand to assist them.
 3. Staff available to answer questions.
Self-service machines aren't particularly chatty and cannot take the place of employees when a customer has a question. Kiosks are effective solutions to placing restaurant orders quickly or processing transactions from the sales floor so shoppers don't have to wait in line, but they cannot tell you if something you're ordering might be too spicy or where to find an item.
4. Reallocate staff to the back of house.
Self-service technology is the perfect line-busting solution that can accept and process quick-service orders, without additional counter people. At Sears, "buy online, pick up in-store" was facilitated by a kiosk where customers could enter their order number and an employee would run the order out to them. Kiosks are a great substitute for additional employees at the front of house, so you can reallocate labor to the back of house. During peak shifts when restaurant orders are flooding the kitchen, you have the flexibility to assign staff wherever they are needed—food prep, running, cleaning. In a retail store, extra hands can help stock shelves, prep orders for pickup, process transactions or answer questions.
Although some business owners may believe they can reduce staff and payroll costs by implementing self-service technology, this is never recommended. Yes, self-service kiosks are great for processing orders, but they can't take the place of living, thinking employees. Instead, use kiosks to reduce wait times and shorten lines, and reallocate your manpower elsewhere. Associates with tablet POS devices can provide real-time inventory assistance on the sales floor and answer questions about products. Restaurants that install kiosks to process orders have the flexibility to move employees around as needed, so diners' experiences are satisfying, and they return again soon.
Contact Touch Dynamic for more information about implementing kiosk technology in your establishment.