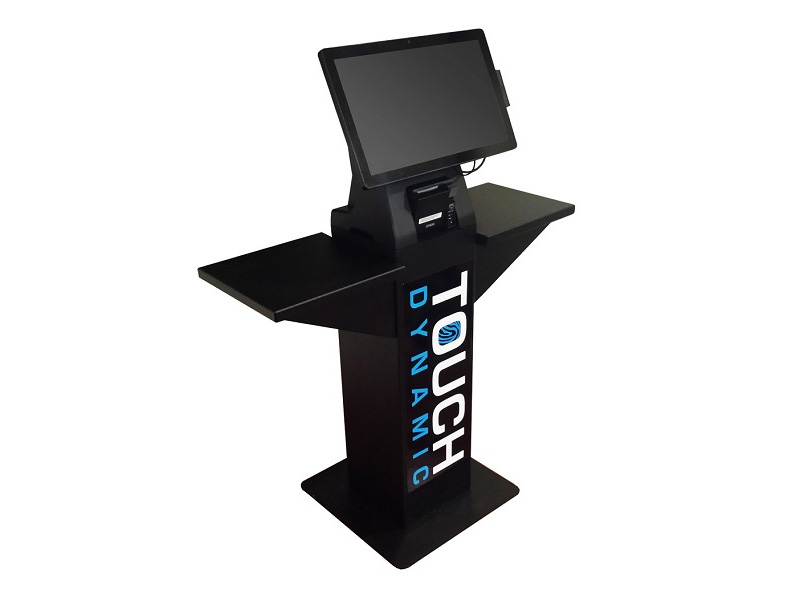 Self-service kiosks are interactive computer terminals that give customers access to information, such as inventory availability, menus, queuing, travel plans and more. Prior to kiosk technology becoming widely adopted, cost-conscious businesses had to choose between a faster checkout or fewer employees working the floor. Now kiosks make it possible to do both without sacrificing growth or profit margins.
There are different types of self-service kiosks, ranging from ruggedized tablets in secured enclosures to free-standing stations. Businesses are loaded with hazards, ranging from liquids, steam, temperature fluctuations, to food particles and rough handling. A device's IP rating will tell you the level of protection the unit has against damage from particles and liquids. A higher number means a more tightly-sealed device that will last longer. Kiosks are used heavily, so they typically have an IP64 rating to protect against dust, splashes, drops and damage.
Self-Service Technology Doesn't Replace Workers
It's an urban legend that self-service kiosks can replace living, breathing employees. Kiosks are great for processing orders, but they can't take the place of staff needed to assist customers, prep orders, stock shelves, bus tables and answer questions. Here are four reasons why kiosks shouldn't replace your existing staff:
Assist with tablet POS solutions:
Instead of standing behind the counter, associates can be reassigned to the sales floor, where they can use tablets to quickly assist customers looking for an item.
Troubleshoot tech issues:
Customers are going to need help when they run into problems with self-service technology. The machines can't fix themselves and guests won't get it right every time, so you'll need staff on-hand to assist them.
Answer questions:
Kiosks are effective solutions to placing restaurant orders quickly or processing transactions from the sales floor, but people will still want to ask a human if something they're ordering might be too spicy or where to find an item.
Reallocate employees to the back of house:
Kiosks are a great substitute for additional workers at the front of house. This gives you the option to reallocate labor to the back of house, without adding to the payroll.
Why Does Your Restaurant Need Self-Service Kiosks?
Self-service kiosks reduce wait times, engage diners during the ordering process and facilitate more informed choices by displaying ingredient lists, substitutions, and modifiers. Not convinced? Here's a closer look at why you need kiosks in your restaurant:
Shorter wait times
A self-order kiosk is a line-busting solution that puts your customers in control of the ordering and payment process. Self-service stations help alleviate wait times as additional counter employees would by keeping the lines moving and sending orders to the kitchen as quickly as possible. Although some people may prefer to wait for a person, most people are comfortable with, and will even seek out, this alternative ordering method.
Higher average ticket size
Millennials and technology fans will flock to technology every time they're presented a choice. The average ticket size for orders placed by kiosk are larger than those taken by employees, because they upsell/cross-sell on every screen and every transaction, without needing reminders or incentives. Automated prompting encourages diners to try new add-on items they usually wouldn't order.
Enhanced order customization
Sometimes diners have complicated requests, so an employee may need to enter several items and do a lot of clicking between screens, which is an invitation to make mistakes. But self-order kiosks give people the chance to see a full list of modifiers and make more informed choices, so it tastes perfect every time.
Improved order accuracy
Entering orders directly into a kiosk eliminates errors made while transferring written orders to the POS terminal, which cost time, money and resources to correct. Instead, the order goes from the customer to the kiosk to the kitchen. There's little chance for error while entering the order and it eliminates the need for kitchen staff to decipher someone's chicken scratch.
Money saved
Kiosks don't replace workers, but it gives the restaurant owner or operator the flexibility to redistribute labor to other job codes like prep, running, or bussing. Kiosks mean orders may come in quickly, and people need to be there to handle the rush.
Optimize labor
Kiosk technology can be leveraged to optimize labor not by replacing your employees, but by lightening their workload. Kiosks can become especially helpful during peak hours when your staff is overwhelmed. On a busy Saturday night, self-service kiosks can help take customer orders so you can reallocate staff to areas that are falling behind. Of course, after the initial deployment, it's a good idea for employees to monitor the kiosks and assist customers using the technology for the first time.
Decrease errors
Because kiosks take orders directly from the customer, there is no need to worry about employees mishearing, forgetting, or entering the wrong items. Once the customer completes their order, it is sent immediately to the kitchen display system, eliminating the risk of illegible handwriting or misplaced paper tickets. Orders will appear on the appropriate prep station monitor for efficient preparation and are bumped after they're completed.
Increase profits
With self-service kiosks, customers control the ordering process and can take their time viewing the menu. Because of this and strategically placed upselling/cross-selling prompts, kiosks increase the average order size by 15-20%. Employees may work at their own pace or forget to upsell. A kiosk takes orders faster and can upsell on every transaction. Kiosks also give the customer a sense of anonymity, allowing them the freedom to make oversized or strange orders without being judged.
Provide data
Kiosk technology is an actual wealth of historical and real-time data. With the ability to learn customer preferences, it can suggest items based on previous purchases. This information allows you to offer relevant, profitable promotions based on customer buying habits. Restaurant owners can also use real-time data to make decisions about inventory. Knowing when items sell and when they don't, you can ensure that your inventory is never wasted or unprepared.
Benefits of Kiosks in the Hospitality Sector
Self-service kiosks are permeating every industry, including hospitality, where they're being used for everything from checking into a flight or hotel to finding entertainment and booking a dining reservation.
Tired travelers appreciate having a kiosk to simplify the check-in process. These terminals also function as a concierge, helping guests order room service, book a spa treatment, or find local attractions. Kiosks are always open and available, so they're a good alternative when the concierge desk has a line.
Self-Service Kiosks in Movie Theaters
Every movie starts with a ticket purchase, and instead of waiting in line, moviegoers can bypass the wait by purchasing tickets at the kiosk or online and printing them at the kiosk.
Once inside the theater, it's time to wait in another line, this time for popcorn. Movie-goers comfortable with kiosk technology can place and receive their orders faster by self-ordering, rather than waiting for a counterperson. Using a self-service kiosk to take orders at the concession stand also eliminates errors that can occur when employees mishear customers' instructions. Getting orders correct the first time means a more streamlined order delivery process, so guests can be in their seats before the previews.
Labor is one of hospitality operators' biggest expenses—and movie theaters are no exception. Implementing a self-service kiosk or two allows you to reassign a few staff members to areas that need more hands, rather than hire additional employees.
Shorter lines enhance the customer experience, boost guest satisfaction and hike revenues across the board. Leveraging self-service kiosks so customers can order, receive their concession items and still get a great seat means they're likely to return for the next blockbuster.
Fast food and fast-casual
Quick-service and fast-casual restaurants are beginning to adopt self-service kiosks because of their upselling and cross-selling capabilities. By encouraging customers to add or upsize items, the average order size increases, allowing restaurants to maximize profits. Kiosks also streamline the entire process from order entry, payment, and food prep. Self-made orders are sent directly to the kitchen; all customer preferences included, so staff can immediately begin working on orders.
C-stores and supermarkets
Kiosks can enhance customer convenience in c-stores and supermarkets in various ways, including looking up information, self-checkout, and price inquiries. Kiosks can also be placed on the sales floor and at the ends of aisles to help customers find specific products and look up other information without asking an employee.
Brick-and-mortar retail endless aisle
E-commerce retailers can offer endless aisles, allowing customers to browse for long periods and view more products that may interest them. With self-service kiosks, brick-and-mortar retailers can mimic the endless-aisle effect. By strategically placing kiosks on the sales floor, customers have the option to browse a retailer's physical inventory as well as explore additional colors, styles, and sizes that may not be available in-store. Because of this, retailers can maintain lower inventory quantities and offer a wider variety of products in-store.
In-store digital signage
Placed throughout the store or in a window display, kiosks can also serve as dynamic digital signage to display brand stories, product demos, and more. Static or interactive, digital signage is an effective way to enhance the shopper's in-store experience while also highlighting your brand and products. Utilizing kiosks as digital signage is also a great way to create continuity between your in-store and online presence.
Self-service kiosk versatility
By now, kiosks have been leveraged by a majority of service-based industries. They effectively automate processes, provide information, and engage with customers to offer an improved customer experience. We have only reached the tip of the iceberg when it comes to discovering their potential across different industries, but there's no doubt that they are useful, cost-effective, and here to stay.
Help Wanted
When customers use self-service kiosks
Kiosks don't need to just look pretty; they have to be functional. Customers are going to seek them out, so make sure your self-service stations have the features people want.
Order customization:
People love to have control over the ordering process, so they can read the menu and view modifiers without feeling rushed. People want to see calorie counts and nutritional information so they can make informed decisions.
Self-payment:
Diners are becoming more wary of handing over their credit and debit cards to servers so payments can be processed. Implementing a self-service kiosk within a more traditional POS payment setting allows customers to complete their own payments, so the credit card never leaves their hand.
Flexible payment:
Customers want several payment options at a kiosk, including mobile wallet, app, and split-checks. Split checks among two, three or even four people are extremely common, so a self-service kiosk should include all these functionalities.
Card readers
For kiosks to work in restaurant and retail settings for self-service purposes, they must be able to take payments. Since credit cards are the most popular payment method, card readers equipped to handle EMV, and magnetic stripe cards are essential for any business that handles transactions. Many customers still prefer to pay with cash, so it is a good idea to ensure your kiosks have a cash input.
Receipt printers
In industries like food service, retail, and hospitality, receipt printers are necessary to ensure transactions run smoothly. Many customers like to have a receipt of their purchase in case of an error or for record-keeping purposes. Receipt printers can also help your marketing efforts by including coupons, promotions, and advertisements on customer receipts.
Sound and video capabilities
Your kiosk peripherals should be inclusive to ensure everyone can use them. Speakers and sound capabilities help vision-impaired guests utilize kiosks with guided commands. Video and interactive displays can assist deaf and hard-of-hearing guests, even offering picture menus to make product selections easier. By using these reliable and accessible peripherals, you can cater to all of your guests.
Touchscreens
More engaging than non-touch displays, touchscreens are an essential feature for every kiosk. Due to the popularity of touch screen smartphones and devices, many customers will have no problem navigating touchscreen kiosks. Touchscreens make the process of viewing menus and items easier with photos and can be leveraged for upselling and cross-selling prompts. Kiosks also allow retailers to create endless aisles for online retail experiences, making it easier for customers to find additional information.
Ingredients for Successful Kiosk Implementation
Regardless of what type of business you operate, web-based applications and wireless connectivity have made kiosks a flexible, cost-effective technology. When it's time to finally go live, don't let it be spoiled by a poor implementation plan.
Here are some top tips for a successful kiosk integration:
Consider the work environment
Choosing the right kiosk for your business depends on your industry, environment and business needs. Determine how many stations you'll need, how they'll be maintained, and what peripherals are required. If the environment is hazardous to electronics, purchase ruggedized equipment or enclosures.
Choose the peripherals
Make a list of the tasks the kiosk will perform and what interactive applications you'll require, like check-in systems and interactive catalogues or menus. Accomplishing these tasks may require additional peripherals such as touch screens, speakers, printers that generate take away collateral, barcode scanners and magnetic stripe readers for processing payments.
Develop an action plan
Setup: A pre-existing software package may be limiting, but building an application from scratch or using web applications allows more flexibility in the kiosk's platform, compatibility and functionality.
Location: If the kiosk will be situated in a high-traffic environment or used to process payments, it would be a good idea to choose ruggedized hardware.
Management: If data will need to be stored in a central database or remotely accessed, then businesses might want to consider connectivity options that allow them to do so, including cloud computing functionality.
Support: Know what your service options are, what connectivity is required, and how much content the kiosk can store.
The retail, hospitality and restaurant industries have been implementing self-order kiosks to reduce wait times, improve the customer experience and generate higher profits. Movie theaters, restaurants, stores, and hotels have been implementing self-order technology successfully and reassigning staff to new duties without expanding their payroll. Although kiosks can't replace live workers, this popular technology will enhance your business so customers can have the control they want and the positive experience that will make them return soon.