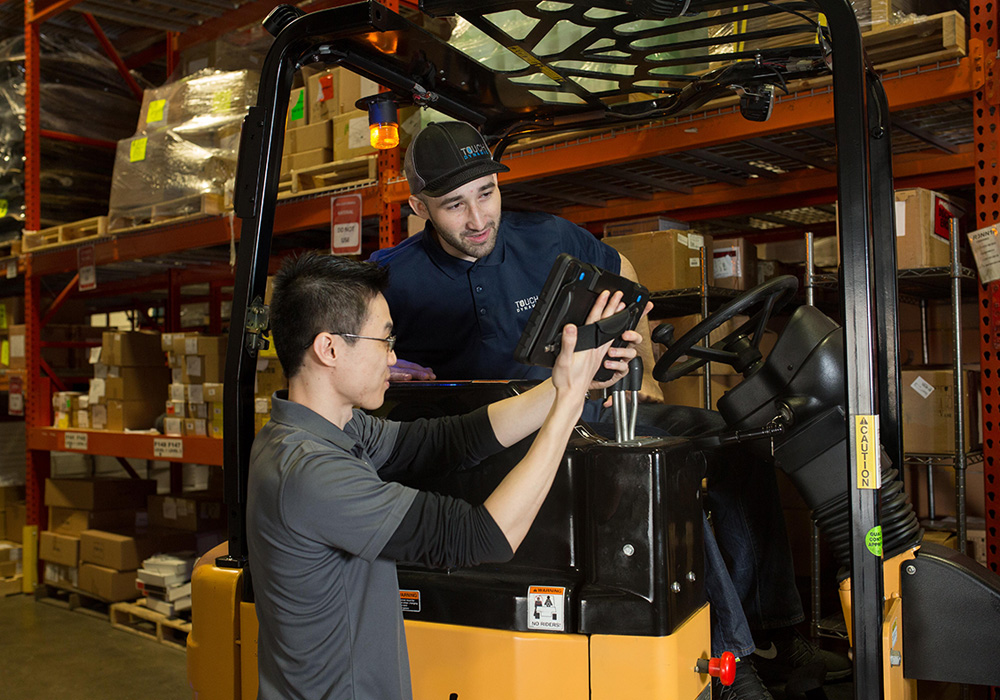 With the rise of two-day shipping (and in some locations, two-hour shipping), consumer expectations have placed a heavy burden on the warehouse and manufacturing industry. With the direction the industry is headed, expectations for increased shipping speed and ultimate convenience are only going to increase. Warehouses that want to stay competitive now and in the future must adapt to meet these demands.
The search is on for ways to increase speed, productivity, and efficiency within warehouse and manufacturing operations. One of the best ways to achieve this is through a mobile infrastructure. Your mobile infrastructure must be well-planned, and you must have a solid strategy in place to meet the demands of customers and successfully future-proof your business for ever-increasing expectations.
Here's how to ensure your enterprise mobility is well-positioned for current and future demands:
Enterprise Mobility Planning
Adding mobility to your enterprise increases your response time and boosts your overall bottom line. Mobile solutions allow workers to carry out more tasks on-the-go, work more efficiently, and improve productivity. However, creating a successful mobile strategy is easier said than done.
Don't just invest in mobility for mobility's sake—carefully consider your operation and how it can benefit from mobility, otherwise, you could end up wasting money and resources on ineffective solutions, duplicating efforts, or even put your business at risk. It takes some research and effort to ensure you choose the right technology, equip it with the right software, and properly manage it.
Evaluate Your Warehouse Technology
In order to develop a solid mobile strategy, start by evaluating your existing enterprise technology. What manual processes do you currently employ, and how could they be automated by mobile technology to increase accuracy and speed? What areas would offer the biggest increase in productivity should you choose to automate?
A good practice to adopt is the "lean manufacturing" approach—one characterized by waste reduction and effective management as a way to increase efficiency and productivity. What manual processes do you currently employ, and how could automation increase accuracy and speed? What areas would offer the biggest boost in productivity should you choose to automate?
Consider what technology you currently use that could use some upgrades, or whether you would benefit from new solutions that would automate these repetitive tasks. Identify other areas of waste in your operation, as well. This could include unnecessary labor expenditures, transportation-related waste, excess inventory, or over-processing. Mobile technology can help automate shipping and receiving, quality assurance, order picking, and more. This lean approach using mobile technology can reduce unnecessary labor, materials, and inventory expenses.
Mobile Computing
Barcode and RFID technology can significantly improve inventory and tracking, but they are only two pieces of the overall puzzle. Once you have a solid foundation for automation with barcode and/or RFID technology, continue to assess your mobile computers and see if they are doing well to optimize your workflows.
Mobile computers keep your workforce connected and allow them to access critical information wherever they are. They can carry out tasks on-the-go, and achieve higher levels of accuracy for operations like picking, receiving, kitting, quality assurance, and more.
Rugged Tablets Designed for Industrial Applications
Rugged tablets are the go-to device for warehouse and manufacturing operations. These offer the superior mobility of commercial devices, but are built to meet the needs of industrial operations. Tablets streamline communications within your operation, while also providing accurate asset tracking management, and more.
Benefits of rugged tablets:
IP54 rating
Tablets designed for industrial applications need a rating of IP54 or higher. Anything under that means the tablet isn't built to withstand the rigors of an industrial environment. This includes moisture, dust, drops to hard concrete floors, and other hazards common in the manufacturing industry. They are also more resistant to general and consistent wear and tear.
Barcode scanning and Wi-Fi
This allows your workers to have better connectivity so they can access important information on-the-go and stay connected to the rest of your workforce. Barcode scanning allows you to utilize the device for more tasks, and achieve better, more accurate data collection.
Enhanced performance
Rugged tablets built for warehouse and manufacturing operations boast a better performance than commercial devices. This additional power is necessary to handle industrial processes which require more performance than personal tasks.
Reduced expense and TCO
The total cost of ownership for rugged, durable tablets is lower than commercial devices, despite a higher initial price tag. This is because rugged tablets will last far longer, require far fewer repairs and replacements, and decrease downtime significantly.
Increased inventory control
Tablets, especially those with barcode scanning capabilities, will streamline inventory processes and provide more control, allowing workers to easily track inventory and assets, keep accurate and real-time counts, and forecast inventory needs.
Rugged Hardware and IP Ratings
IP ratings apply to many of the devices used in industrial settings. The first digit applies to solid materials, and each rating determines what can get inside the device through various points of entry like fans and ports. Anything from 1-4 will allow solids to pass through the device. A rating of 5 will offer limited dust protection, and 6 means the device is completely sealed from dust.
The second number defines the degree of protection against liquids in different forms. Ratings from 1-3 won't protect against condensation, dripping water, or spray. A rating of 4 or beyond will prevent against accidental water damage. Water damage to a device certified with a 1-3 rating would come from direct splashes or high-pressure jets to break through the device's protective barrier.
Consumer devices are generally rated lower, since they don't come into contact with nearly as many hazards as industrial devices do. Look for a rating of IP54 or higher.
Benefits of Rugged Mobile Technology in the Supply Chain
Aside from superior durability and performance, rugged mobile technology offers many advantages to warehouse and manufacturing operations throughout the entire supply chain, from production to the sales floor:
On the production floor
You can use rugged tablets to review critical data, access applications, track projects and carry out different tasks efficiently. Mobile technology is the best way to keep yourself informed and up-to-date. You can also keep management, suppliers, and customers informed on the status of orders in real time.
In the warehouse
Rugged tablets offer a flexible alternative to mounted and fixed computers. They support barcode scanning, RFID, and wireless LAN communications for better and more accurate asset tracking. With this, you can find and process inbound and outbound shipments and their contents quickly and easily.
In transit and during delivery
Mobile technology keeps your drivers connected with your warehouse, can provide GPS turn-by-turn directions, and an efficient way to keep logs, record data, and access information on-the-go. This eliminates error-prone paper-based processes that take too long, increasing speed and efficiency.
In the retail environment
Rugged mobile tablets allow retail staff to quickly scan barcodes and RFID tags during the inventory process. They can also provide valuable mobile POS capabilities to streamline operations on the sales floor. This allows sales associates to quickly access data and process transactions from anywhere.
Mobile Deployment
If you have custom applications in your warehouse, your IT team must develop, test, and certify applications for your entire mobile infrastructure. Thankfully, today's technology advancements make it far easier, faster, and cost-effective to establish a deployment framework and strategically roll out devices.
Because support for some Windows devices commonly used in warehouse and distribution applications is coming to an end, manufacturers and warehouses are switching over to the Android OS, as well as to updated versions of the Windows OS.
Windows End of Life dates:
June 10, 2018 – Windows Embedded CE 6.0
June 9, 2019 – Windows Embedded 8.1 Handheld
January 14,2020 – Windows Embedded Handheld 6.5
In order to keep operations running and prevent downtime, companies running on the Windows platforms listed above will need to have a migration plan in place for the switch over to Android devices or to Windows devices with fully supported platforms. Touch Dynamic offers a wide range of rugged tablets, industrial mobile computers, and other critical technology for the warehouse and manufacturing industry. Our experts are well-versed in enterprise mobile technology and can guide you through OS migration, enterprise mobility planning and strategizing, and getting the most out of your technology investment.
For more information on the rugged tablet solutions we offer, view our buyer's guide. If you would like to know more about enterprise mobility, contact us, or schedule a demo.